Current Undergraduate Research Opportunities:
Project:
RACECAR Platform Support & Enhancement
Details: The Dynamics and Control Systems Laboratory (DCSL) in the School of Aerospace Engineering is looking to hire an undergraduate student to work part-time starting Summer '23 to enhance the RACECAR F1/10th autonomous racing fleet and support research operations using the fleet. The applicant will meet weekly with a graduate student mentor for direction and guidance but will otherwise enjoy a high degree of independence and flexibility in this role.
Core responsibilities include:
Configure, upgrade, and track hardware & software status of RACECAR fleet
Manage fleet readiness and availability for upcoming experiments
Standardize, document, and automate processes for data collection, exfiltration, and storage from multiple vehicles per experiment
Develop and support development of repeatable analyses of experimental data within the standardized data management framework
In addition, self-directed exploration is invited in the following areas:
Create an operator interface for controlling and observing fleet status in real-time during experiments
Design, propose, and execute upgrades to fleet capabilities, such as new sensors and on-board computers
Evaluate and improve existing system behaviors, such as autonomous racing, path planning & following, SLAM, and search & rescue
Propose and develop new behaviors and demonstrations
The applicant should have an ECE or CS background and many of the following:
Strong communication skills and an ability to explain technical material clearly and concisely
Drive to independently seek creative solutions to hard problems, even in the face of vague or uncertain requirements
Scientific mindset and bias toward experimentation
Skilled self-directed learning and ability to assimilate abstract concepts quickly
Excellent coding skills and broad exposure to many programming environments, especially C/C++, Python, and Web/Javascript
Familiarity with Linux system administration, especially limited permissions, SSH, and remote access
Experience working with ROS
Familiarity with computer networking, especially the OSI model, IPv4, and UDP
GitHub and code sharing experience
Location: Software development can be completed remotely. Hardware is in Montgomery Knight Building, Rooms 425 (DCSL lab space) and 103 (Indoor Flight Lab).
Time Commitment: 10 hours per week.
Eligibility: This position is funded by a National Science Foundation Research Experience for Undergraduates grant, which is available to U.S. Citizens only.
How To Apply: Please email resumes to Connor Lawson (rlawson6@gatech.edu).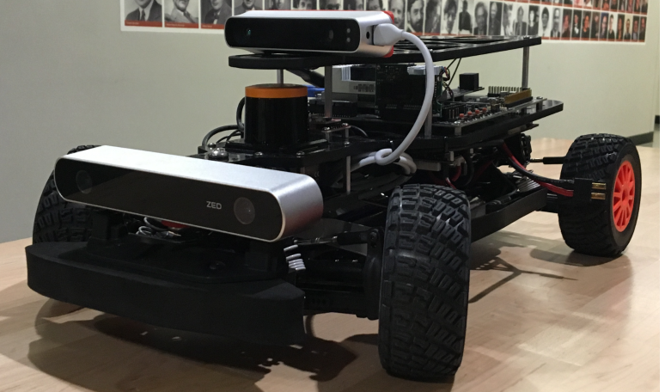 Current hardware configuration of an autonomous racecar platform.